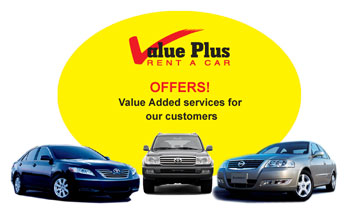 With Dubai's spectacular economic growth and expanding commercial sector, it has become mandatory to all companies to keep their fleet of vehicles young to ensure a trouble free operations and to uplift the corporate image.
Since Leasing vehicles is the best way to go and most of the corporates do not have time to concentrate in this field rather than focusing their efforts in achieving their goals and targets, it is virtual that each company should find their transport solutions at the right price and conditions.
Value Plus services are focused to assist companies in identifying the right type of fleet that best match to the type of business and thus avoid companies blocking their capital in procuring vehicles which is rapidly depreciating asset.
Value Plus relieves the leasing companies from the hustle and bustle of procuring the right type of vehicles, executing legal formalities, insurance and follow-ups, maintenance and so on which may divert the attention of the Administrators of the firm.
To achieve the highest customer satisfaction and repeat loyal customers, Value Plus Rent a Car offers the following services;
Wide range of new model vehicles - saloons and 4WDs

Transport buses from 14 – 34 seaters

Comprehensively insured vehicles, subject to insurance terms and conditions.

Complete maintenance in Emarat - Fast-Track – centers throughout UAE – to ensure a trouble free and safe driving

Valued added prices for Short and long term rentals

Free mileage: 4000 Kms for Saloons and 5000 Kms for buses

Immediate replacement for service vehicles and accidents

Free Recovery services through AAA through out UAE

Airport Transfers

Staff / Labour / Students transport safely in our professional chauffeur driven buses
We value every opportunity to SERVE you!!!
---