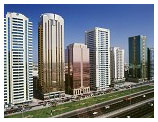 We realize the importance of the presence of many quality car rental companies that could cope-up with the growing requirement of the UAE market which witnesses fast growth in economy by means of infrastructure, real-estate and tourism.
Mr. Saad Bahwan, the younger son of Mr. Suhail Bahwan one of the pioneers of successful business house in Oman, is the Chairman of OTE (Oman Trading Establishment) which was established in 1990.
The companies that sprouted under the wings of OTE one after another since then are now firmly rooted, standing like pillars supporting the growth of OTE in the Sultanate.
OTE entered the business scenario in 1991 with the Sumitomo Tyres. The Company hasn't looked back since. In 1991, OTE went into the Automotive business with the auto brands like GM, Hyundai and Isuzu and later in mid 1992 bagged the Subaru Franchise. The taking over of Ssangyong brand much later in 1999 completed OTE Group's armory to surge ahead with other product ranges.
Value Plus Rent a Car was started in Oman in the year and now successfully operating with a fleet of 600+
With the success story of Oman and along with a team of professionally qualified, enthusiastic and adept managers, Value Plus has stepped up its first effort in UAE to launch its Head Quarters in Dubai on July 2007.